Etihad has announced its new "residence" for the ultimate luxury experience.
The new cabin for the discerning, and extremely wealthy, flier features a three room private space for each passenger (or couple).
The three rooms include a living room, double bedroom and ensuite shower.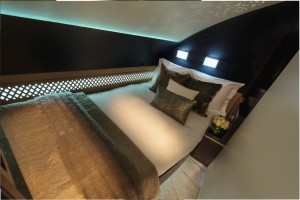 The new cabin has been getting a lot of media attention since it was announced in the last couple of days. Considering the new cabin is 125 square feet (just under 12 square metres) it's not surprising.
It's packed with luxury features:
The living room in The Residence is furnished with a two-seat reclining sofa upholstered in Poltrona Frau leather, dual marquetry dining tables and a chilled mini-bar.

A touchscreen control unit operates the retractable ottoman, the ambient and mood lighting, window shading, adjusts seat position and firmness, and activates the in-seat massage functions.

A door and passageway separate the living room from the master bedroom and the ensuite shower room. The bedroom features a Poltrona Frau upholstered 82 inch long double bed with custom-made mattress, bedside unit, wardrobe, and under-bed stowage for hand luggage.

The living room features a large 32 inch LCD TV, whilst the bedroom boasts its own 27 inch LCD TV. The communications suite features broadband with internet mobile and data capability, Live TV, HDMI, AC outlet and USB ports.

The Residence is fully Wi-Fi enabled and equipped with the latest Panasonic eX3 entertainment system, controlled by video touch screen and handset.
Want to see more?
Here's an overview video:
But this video with Danni Minogue gives you a nice "feel" for the features:
Pricing isn't clear yet, but it's probably going to be in the five figure range for a return flight.
Related articles