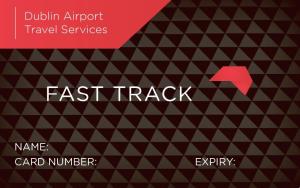 Dublin Airport Authority's "Airport Genie" service has been folded into their main suite of services.
They've also expanded the "Airport Club" to include an annual membership plan specifically for access to fast track.
You can now get an annual membership which covers fast track access only for 200 Euro per year.
Paying for fast track is normally EUR5.95, so if you take about 33 flights ex-Dublin per year then it's worth it. If you factor in the 10% discount you get from "The Loop", Dublin airport's shopping area, then it could pay for itself even faster.
Getting access to the security fast track lane is worth the investment, as the lines can easily end up being long at peak times. Spending 20 minutes in a queue is not anyone's idea of fun, which is why I usually pay the EUR5.95 to avoid it.